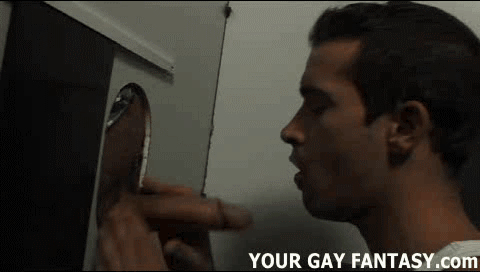 share gif:
This guy is ready to take on his first cock. The scene? An underground club that boasts a glory hole fit for hot gay studs to have anonymous sex in.

To tell you the truth, I've always loved the idea of sucking a stranger's dick. It has turned me on for months now and it's finally the day that I make that dream a reality. I admit that I'm gay and bro, if you like cock and want to suck it all day long, your best bet is to embrace your true sexuality as well. The sooner you do it the better, because it means you get to sample more dick!

I feel so dirty being here right now. I'm sure you can imagine the things that are going through my mind as I treat this hot cock to the pleasure it deserves. I wish I could bend over right now and take it deep in my ass. Oh my god, that feeling would just be so incredible. I'm rock hard right now and to be honest, I'm looking forward to getting my own dick sucked by this gay dude.